FELIPA ALMEIDA AT LISBON DESIGN WEEK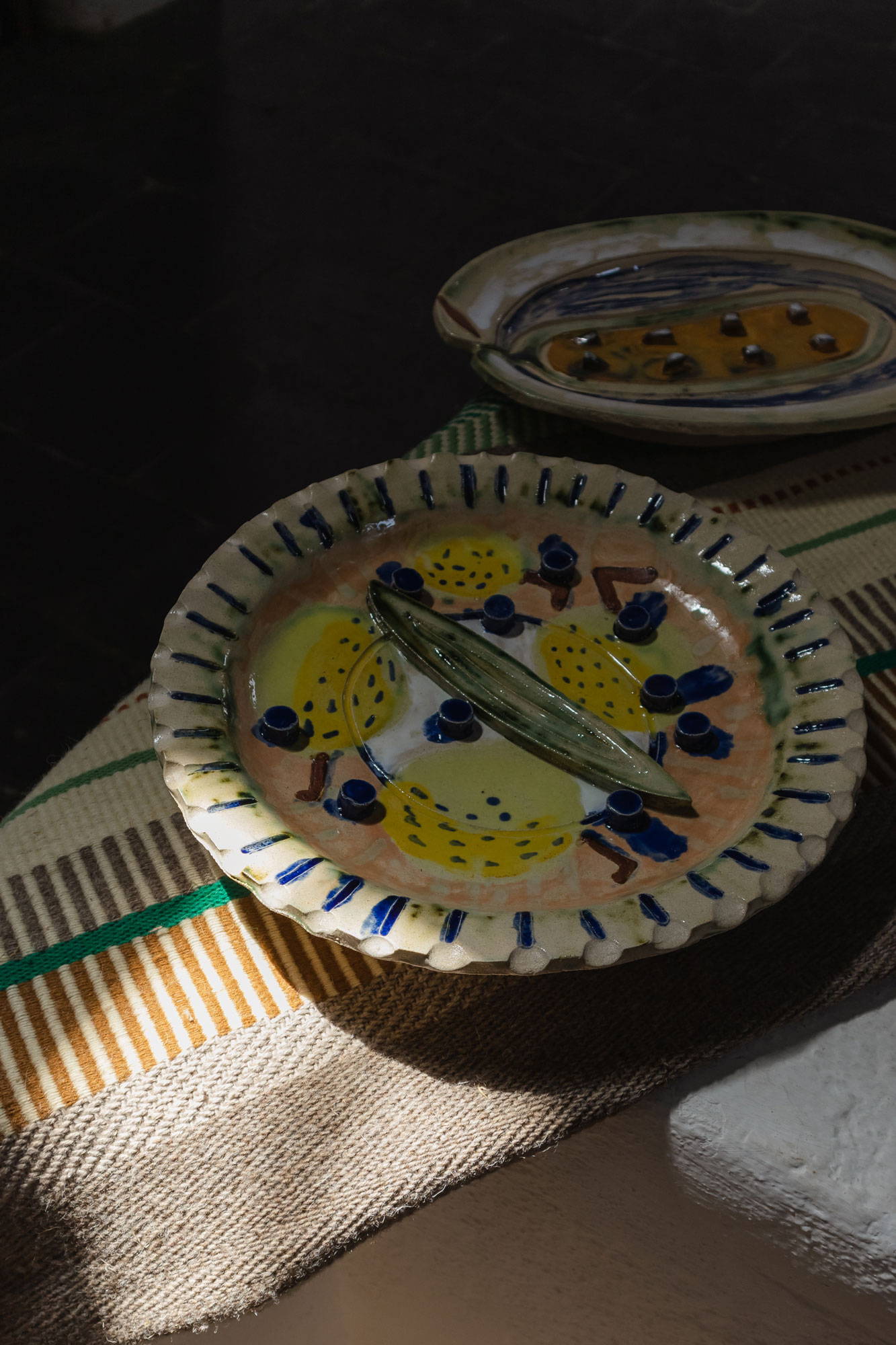 "It is really one of the aspects of my work that I love the most: to imagine a theme and then see it unfold in so many interesting ways by the hands of the artists."
Great artists, artisans, and craftspeople capture history and preserve it for future generations; it is part of what makes their creations so meaningful: they connect us to our past while rooting us in the present moment. The work of Portuguese curator and art director Felipa Almeida is an extension of this: she preserves culture by celebrating it, bringing different creatives and artisans together, telling stories about our past and present, asking us to reflect on objects as they relate to our human experience and the passage of time.
Portuguese by birth, Felipa Almeida spent most of her first 30 years living, studying and working abroad — in Paris, Geneva and London — before returning home. She returned with the curiosity of someone encountering Portugal for the first time, full of knowledge of other ways of being and doing, while her heart was that of a local, seeing her ancestors and her personal history reflected in every surface and in the traditions kept alive. This potent combination drove her to dedicate herself to celebrating Portuguese culture through curatorship and art direction projects, creating collections of handicrafts and antiques, and editing unique pieces in collaboration with artists. De La Espada have long been fans of her work, and we are very excited to visit, at Lisbon by Design during Lisbon Design Week this year, the Pomar exhibition she curated for textile artisans Fabricaal.
We first encountered Felipa Almeida when she was working on interior and architecture projects with Ana Anahory as part of their firm AnahoryAlmeida. We were struck by the quiet authenticity of each project; how each feels like home, incorporating the work of local artisans and materials true to the locale. The luxury of each project is in the time, attention to detail, generations of wisdom and skill, honesty of the materials, and how each project is tied so strongly to history and place. From 2014-2016, the firm carried out the art direction and interior design for one of our favourite places in the world, the breathtaking hotel retreat São Lourenço do Barrocal in Alentejo, with a focus on the traditional crafts of the region. This is when they first started working with Fabricaal (also known as Fábrica Alentejana de Lanifícios), a century-old textile workshop crafting Alentejo blankets on manual looms. 
"When we were working in the interiors of São Lourenço do Barrocal in AnahoryAlmeida studio, we naturally worked with Fábrica Alentejana de Lanifícios because they are in Reguengos which means 10 minutes' drive from the hotel. It was impossible to ignore that we had this gem of our cultural patrimony so close geographically. Since then, I have had the opportunity to work in many projects in Alentejo, and in all of them I found an excuse to work with Fabricaal," Almeida explains. These projects include more outstanding estates: the restaurant at Quinta do Quetzal; Herdade da Aldeia de Cima, which included a collaboration with De La Espada on special Capo Chairs in Fabricaal textiles; and, most recently, Almeida worked with Fabricaal for the wine bar of The Esporão estate.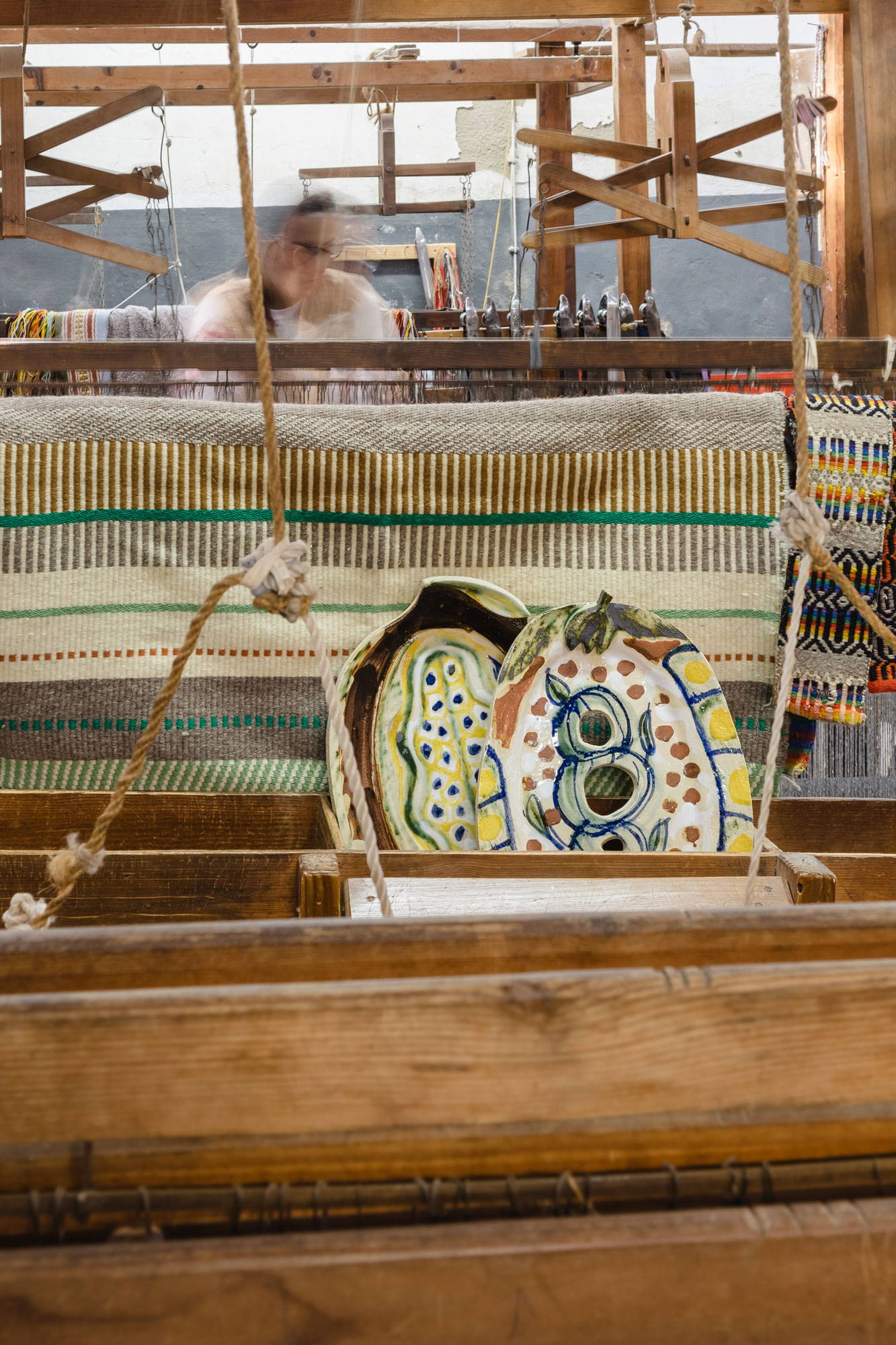 The Alentejo blankets, or Mantas Alentejanas, Fabricaal produces are an important part of Portuguese culture. Merino sheep have roamed Alentejo's fields for centuries, allowing wool craft to play an essential role in the region since the 16th century. Mantas Alentejanas, a common sight in Portuguese homes, also have a history reaching back centuries; they were first made as blankets and cloaks to keep shepherds warm during the harsh winters. Today at Fabricaal, they are crafted using the same traditional weaving techniques and manual wooden looms as used in their earliest creation. Over time the designs and colours have become more complex, and Fabricaal has adapted the textiles for various uses beyond blankets into rugs, bedding, and upholstery, but the DNA of the blankets remains the same, as has the integrity of the craft and the skills of the craftsperson. The blankets have gained popularity in recent times, from those appreciating the performance, natural materials, sustainability, and the combination of contemporary design and traditional craft. The blankets transport one from the past into modern times, straddling both worlds and carrying the meaning of history.
"I was very happy to receive this invitation from Fabricaal to curate their room in Lisbon by Design. They suggested that I could also bring ceramics, and the dialogue between these two contrasting materials was a great starting point. I started then to imagine Matisse's studio or Amadeo Souza Cardoso with a mix of painting, ceramics and woollen pieces full of colours with the imaginary world of spring fruits in the back," says Almeida. Bringing ceramics into the Pomar exhibition felt like a natural choice, as the region of Reguengos de Monsaraz, where Fabricaal is located, has strong pottery traditions as well.
As curator, Felipa Almeida defined a colour palette with Fabricaal and invited artists to create unique pieces specifically for the Pomar exhibition. When working with artists, Felipa provides clear direction while leaving room for free exploration and the expression of each artist's creative vision: "I choose a theme and I then make my own mood board: books I read, travels, vintage pieces I found… it is always a mix. I then choose two or three images to share with the artists, to show them where I begin. Then it is always fascinating to see how each of them then goes somewhere so personal and intuitive. It is really one of the aspects of my work that I love the most: to imagine a theme and then see it unfold in so many interesting ways by the hands of the artists."
She works with a range of artists, which she chooses "because I admire their work, of course, and because I feel they relate in their own way to the specific theme I am working on at the moment. I also travel a lot in Portugal visiting museums, galleries, studios, workshops, small factories and I get to know artists and follow their work. The invitations also come from these trips," she explains. 
Some artists are repeat collaborators, and Henriette Arcelin, part of the Pomar exhibition, is the artist with whom Felipa has collaborated the most frequently. They met when Almeida was working, as part of AnahoryAlmeida, on the Quinta do Quetzal project and was in search of an artist to create an illustration of an exotic bird for a large tiled panel. "She gave us a prototype in three days. We were so impressed. We started working with her and never stopped since then." Almeida continues, "Henriette is an amazing artist, very versatile. I have been lucky to explore with her such a rich variety of materials: tile panels, tapestries, mosaics for the floor, all kinds of ceramics pieces. We even made a prototype of a carpet for the floor of a train once. Sky is the limit with her! And, of course, she brings joy to any project."
At the Pomar exhibition, art, craft and history converge to celebrate not only the theme of the show, spring and its fruits, but Portuguese culture. Under Felipa Almeida's direction, artists and craftspeople honour traditional crafts, connecting us to history, while shaping modern narratives, connecting the past and present through unique creative visions. Henriette Arcelin presents ceramic pieces inspired by a reference oil painting she created that combined blankets and fruit; Rita Kroh presents a sculptural wall piece, made from wool from Fabricaal, representing a fruit bowl; and Maud Téphany presents a set of ceramic pieces inspired by seasonal fruits.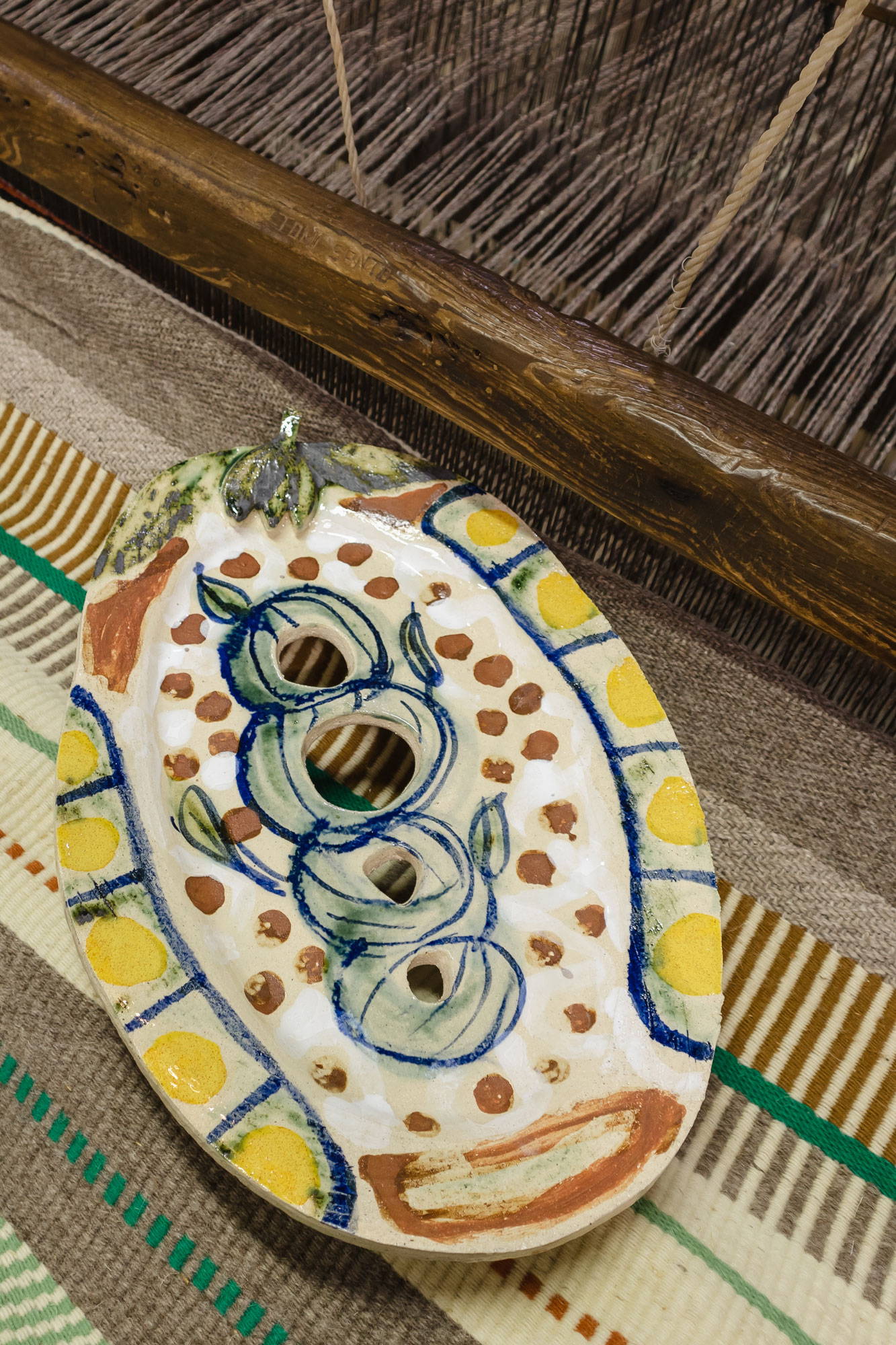 The Pomar exhibition takes place at Lisbon by Design at Palacete Gomes Freire during Lisbon Design Week 24-28 May 2023. There is an abundance of unmissable exhibitions, workshops, masterclasses, presentations, talks, and more throughout Lisbon Design Week, and for those visiting during this time, Felipa offers her recommendations on what to see, both as part of and beyond the design event: "There is a lot happening in Lisbon. I'd suggest a visit to the Jorge Barradas' exhibition, a Portuguese modernist artist, at the Museu Nacional de Arte Contemporânea, in Chiado. If you enjoy the Pomar exhibition, I would also recommend a visit to the exhibition A Viagem that I curated for Manufactura das Tapeçarias de Portalegre with tapestries and ceramics (Tuesdays and Thursdays, by appointment, at Rua da Academia das Ciências 2J). If you like Henriette Arcelin's work, you can also visit her studio As Congeladas that she shares also with Catherine Boutaud. For those who still haven't visited the beautiful exhibition Um Cento de Cestos (Hundreds of Baskets) curated by Passa ao Futuro at the Museu de Arte Popular, I would say it is a must."
Also not to be missed is a pop-up on 26th and 27th May at Felipa Almeida's studio. Entitled Feira da Fruteira (Fruit Fair), fruit bowls will be represented in paintings, glass and ceramic pieces created by artists specially for the event.
Find select De La Espada highlights of Lisbon Design Week here.

Pomar
Lisbon by Design
Palacete Gomes Freire
R. Gomes Freire 98
1150-179 Lisboa
Visit Lisbon by Design
Visit Lisbon Design Week
Learn more about Felipa Almeida
More about Fabricaal here and here
Photo credit: Filipa Pinto da Silva
---